Honey Garlic Chicken Noodle Bowl with Janes Whole Wheat Strips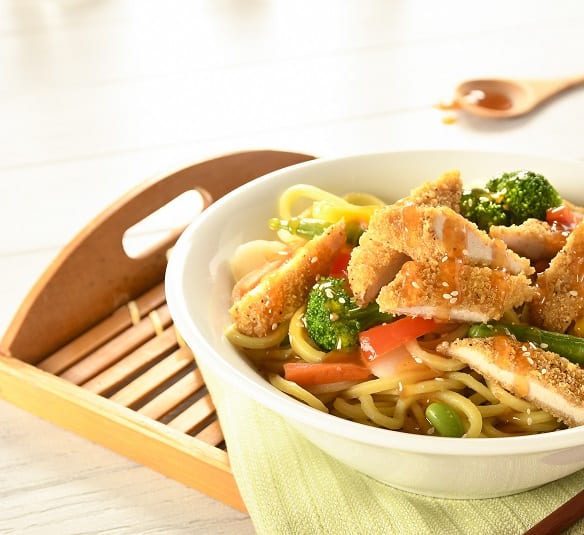 This could easily become your next family favourite! Delicious crispy pieces of Janes Whole Wheat Chicken Strips top off this colourful bowl of sautéed veggies and springy noodles. Smothered in a tangy, sweet and sticky Honey Garlic Sauce.
Ingredients
8 Janes Whole Wheat Chicken Strips, cut into diagonal, bite-size pieces

4 portions of Cantonese or Ramen noodles, cooked as per package instructions

4 cups (1000 g) frozen Asian-style vegetables

2 tsp (30 mL) vegetable oil

Salt and Pepper to taste

4 tsp (20 mL) chives or green onion, chopped

2 tsp (10 mL) sesame seeds (optional)

1 cup (250 g) honey garlic sauce (store-bought)
Directions
Pre-heat oven to 425 degrees F. Place 8 Janes Whole Wheat Chicken Strips on a baking tray. Bake for 10 minutes and then flip and bake for another 8 minutes.

Sautée vegetables in vegetable oil until tender-crisp, and season to taste with salt and pepper. Set aside.

Prepare noodles as per package instructions.

To assemble: Divide noodles into 4 bowls and top each with ¼ of the vegetables. Top each with 2 of the cut Janes Whole Wheat Chicken Strips. Heat the sauce in the microwave on high for 1 minute, stir and then drizzle onto each bowl. Garnish with chopped green chives or green onions and sesame seeds.

Tip: Try adding bok choy for a more authentic noodle bowl experience. Add lemon juice or lemon zest for an additional layer of flavour!
More Meal Hacks